Introduction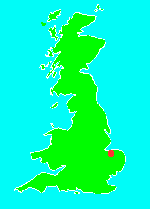 King's Lynn in the county of Norfolk England was one of the leading seaports in Great Britain throughout the medieval period and still is a working port today. A large part of the 15th and 16th century town has been restored and utilised for present day business and domestic dwellings. King's Lynn is unique in having two medieval guildhalls. The Trinity Guildhall is part of the Town Hall complex and St Georges Guildhall is now a Centre for the Arts. King's Lynn has a Festival of the Arts each year during late July and early August run by the King's Lynn Festival Board.
Many famous names are associated with King's Lynn. Admiral Lord Nelson was born in the Borough at Burnham Thorpe. Sir Robert Walpole, MP for King's Lynn in the 18th century, is often given the title of Britain's First Prime Minister. Captain George Vancouver was born in the town in 1757. He sailed with Captain James Cook on his second and third voyage and was with him when he was killed in Hawaii. He later had his own command and surveyed the Pacific coast of America from Baha California to Alaska and has two cities named after him, one in America and one in British Columbia. Captain John Smith served as an apprentice in King's Lynn as a young lad and his name is often associated with Poccahontas who married John Rolfe who came from near King's Lynn.
The town of King's Lynn has a population of about 35,000 and the total population of the Borough is 134,000. The town is a tourist attraction with its old buildings and historical connections situated on the river Great Ouse that empties into the Wash, one of the sites of world-class importance for waterfowl in the UK. Do browse through the pictures of this medieval town, which may encourage you to pay a visit.
Pictures of King's Lynn
Looking across the River Great Ouse from West Lynn.
Purfleet Quay and Custom House 1683.
Trinity Guildhall and Old Gaol House.
St.Margaret's House Courtyard.
St.Margaret's House -Roof in Marriage Room.
Thoresby College Great Hall Roof.
King Street - one of the alley ways.
St.George's Guildhall & 27 King Street.
The Witch's Heart. Tuesday Market Place.
View of King's Lynn from West Lynn.
---
Application and page design by interADS